When Jesus attended the synagogue on the Sabbath day at Capernaum, it was not to recite "The Lord's Prayer" or sing "How Great Thou Art." It was to teach his take on the law, the Torah, the five books of Moses. For the synagogue in the first century AD was a house of study, similar to our contemporary Sunday School classes.
If a Galilean wanted to pray for forgiveness or offer a prayer of thanksgiving, then he would journey up to Jerusalem and offer a sacrifice in the Temple courtyard. But the synagogues in each town were filled on the seventh day by local farmers, fishermen and merchants gathered together to hear the weekly portion of the Torah, accompanied by a passage from the Prophets. Afterwards an impassioned debate would ensue about the finer points of the law and its relevance for their day-to-day life. Jews in those days (as today!) were very argumentative and there were opinions galore.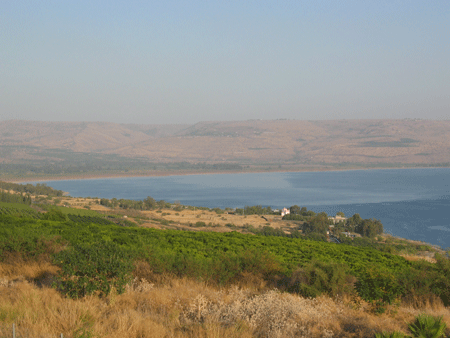 Photo: Gila Yudkin
Capernaum on the NW shore of the Sea of Galilee
We know from the gospels of Matthew, Mark and Luke, that Jesus, however, stood out from other teacher/rabbis, for he taught with authority. Imagine then, attending the Capernaum synagogue on the Sabbath day, and just as Jesus reaches the crux of his argument, a man begins to heckle, shouting in a booming voice, "cool it man," in or in the words of the gospel of Mark, "Leave us alone…Have you come to destroy us?"

This man with "an unclean spirit," (suffering perhaps from an early form of attention deficit disorder or hyperactivity) doesn't divert Jesus who immediately commands the demon to chill out, amazing everyone in the congregation. This is just one of the incidents we recall as we sit in the Capernaum synagogue, knowing we are in the same place that Jesus healed that man, two thousand years ago.
Photo: Gila Yudkin
Facade of Capernaum's 4th century AD synagogue
We remember the controversy stirred up in this synagogue when Jesus proclaimed that he was the bread of the Father that came down from heaven. We imagine the son of Jonas and the son of Simeon, sitting on the limestone bench like us, shaking their heads, frowning and murmuring, "Is this not Jesus, son of Joseph whose father and mother we know?"

What would we have thought when we heard that Jesus not only recruited the local tax collector, Levi son of Alphaeus, (whom the neighbors may have referred to as "the pimp",) but he merrily feasted with other sinners and outcasts. (Matthew 9) He healed the unworthy, the disrupters, the crazy, the blind, the mute, the fever-stricken and the paralyzed – all at Capernaum! He dealt with demons and dissenters. Hmmmm. What does that mean for us?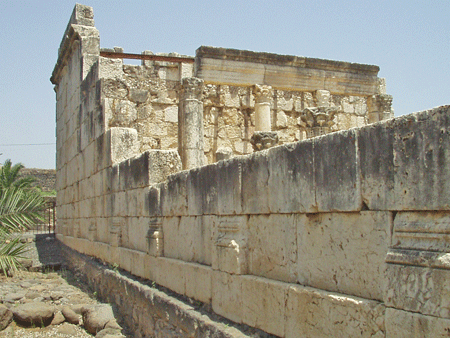 Photo: Gila Yudkin
Western exterior wall of synagogue at Capernaum
As we exit the gleaming white stone synagogue built over the black basalt building of Jesus' day, we identify with the wonder that the residents of Capernaum may have felt at being eye-witnesses to these incredible events. And after you visit Capernaum, you will never again read the Bible in black and white! Scripture will take on a spectrum of color and deeper significance.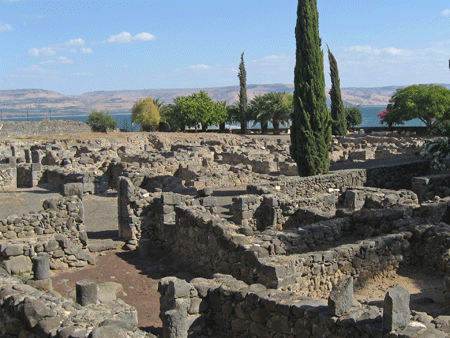 Photo: Gila Yudkin
Neighborhood of Peter's mother-in-law at Capernaum
So come with me, to Capernaum, which I visit on every tour. Sometimes it's crowded and sometimes not, but we always allow time for deep reflection so that your spirit is refreshed.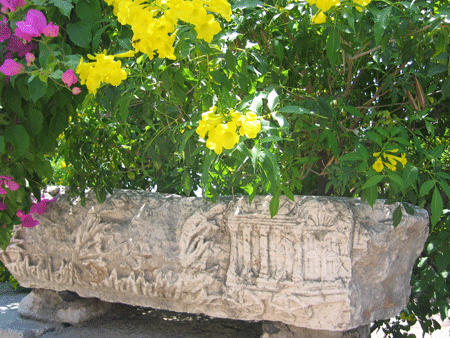 Photo: Gila Yudkin
Ark of the Covenant decorative stone from Capernaum's synagogue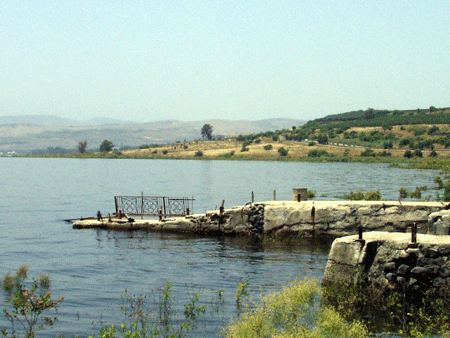 Photo: Gila Yudkin
Old Capernaum harbor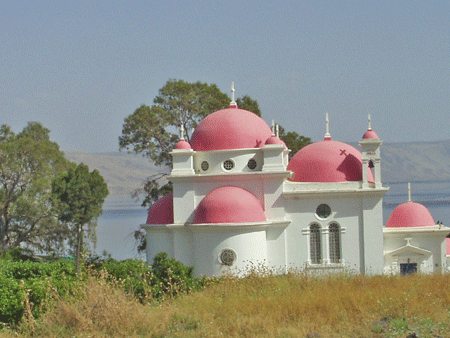 Photo: Gila Yudkin
Capernaum's Greek Orthodox church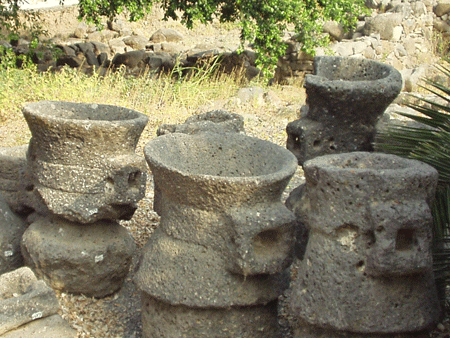 Photo: Gila Yudkin
Millstones manufactured at Capernaum
Gila Yudkin, who calls herself a Connecticut-born Yankee living in King David's Court, is thrilled when the Bible comes alive for both her and her pilgrims. After three decades of guiding in peak and off seasons, she has mastered the art of arriving at a holy site when it is least crowded. Gila loves working with groups thirsty for biblical insight, archeological anecdotes and old-fashioned fun.
Copyright 2008, 2011 Gila Yudkin. Permission needed for any reuse.
If this "highlight" persuades you to pack your bags and join one of Gila's tours so you can visit the synagogue of Capernaum, see tips for what you should bring on a holy land pilgrimage.
Read about Edward Robinson, another Connecticut Yankee, who first identified the ruins at Capernaum as a synagogue.