Mary of Magdala, who was the first to witness Jesus' resurrection, was cast in a provocative, very unbiblical role in author Dan Brown's best-selling fantasy, "The Da Vinci Code." In the aftermath of the success of the 2003 novel, Magdala, Mary's hometown a few miles north of Tiberias on the western shore of the Sea of Galilee, attracted a surge of curiosity seekers and cult followers.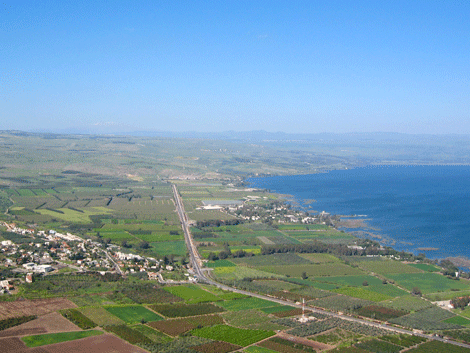 Photo: Gila Yudkin
Magdala as seen from Mount Arbel lies at the bottom right corner
But they missed it! No one really knew the location of Mary's authentic hometown until 2009 when a salvage dig conducted by the Israeli Antiquities Department struck pay dirt, so to speak. Less than one foot under the topsoil, a first century AD synagogue was discovered, including a decorated stone block that archeologists say was probably used as a table for reading the Torah. The stone may even be a miniature of the Jerusalem Temple with its ornate columns and arches, a seven-branched menorah flanked by vessels for wine and oil, a 12-leaf rosette and chariots of fire.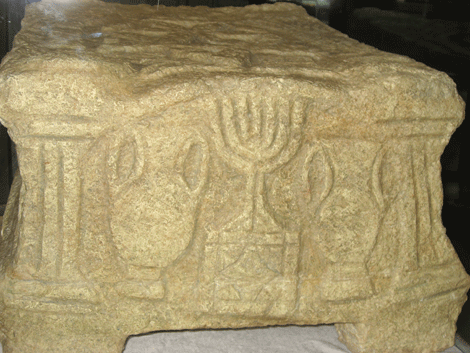 Photo: Gila Yudkin
Menorah relief found in middle of Magdala's synagogue of Jesus' day
A local coin found in a side room in the synagogue was dated to the year 29. Matthew says, "Jesus went all through Galilee, teaching in its synagogues, preaching the good news of the Kingdom of God and curing the sicknesses and the ailments of the people." Wow – did Jesus preach in this VERY synagogue?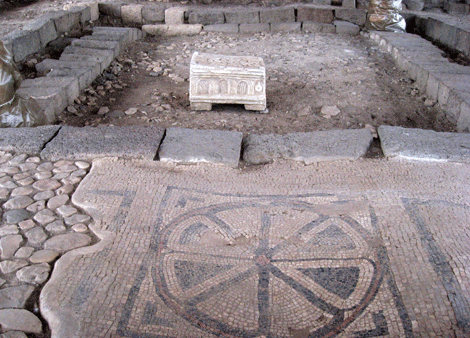 Photo: Gila Yudkin
Mosaic found in first century AD Magdala synagogue
We know that Magdala, on the shores of the Sea of Galilee, was a Galilean hub for the fish industry. Indeed, one of its most populous quarters was called Tarichae in Greek, meaning the place of the fish-salters. From here fish were exported to Judea and around the Mediterranean world. (I'll bet even Augustus Caesar delighted in serving pickled Magdala fish as tasty appetizers at his extravagant banquets.)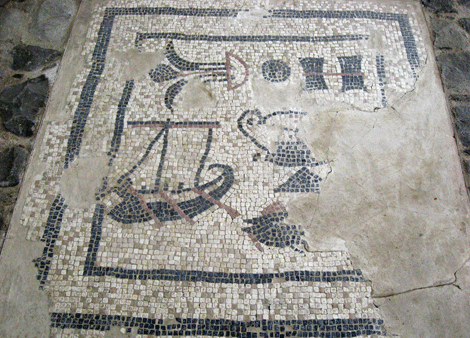 Photo: Gila Yudkin
Magdala mosaic showing first century AD fishing boat
Archeologists have uncovered an ancient marketplace with a separate area of rooms for water pools presumably to produce salted cured fish, along with a fisherman's neighborhood and a section of a first-century inner harbor. First century AD historian Josephus mentions 230 (!) boats out in the sea, opposite Magdala during the Jewish revolt against the Romans. (And let's not forget that the ancient boat -- dubbed "the Jesus boat" -- was discovered in 1986 by two fishermen, right on this very shore.)
Courtesy of Jesus Boat Shop
First century AD fishing boat found by the shores of Magdala in 1986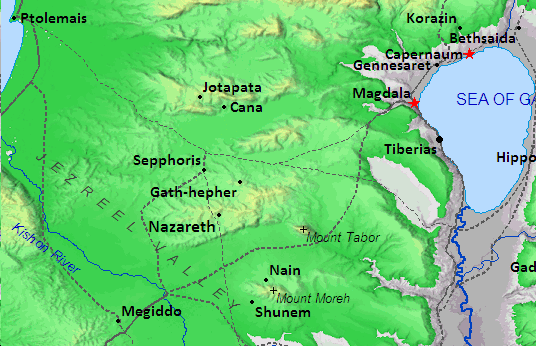 Adapted from Bible Mapper by itsGila
Map of Galilee showing prominent towns in Jesus' day
Mary Magdalene, then, came from a very prosperous thriving town with a synagogue. Uniquely, among the gospels, she is specified by name as a witness to three key events: Jesus' crucifixion, his burial and the discovery that his tomb was empty. Both John and Mark specifically name her as the first person to see Jesus after his resurrection.
However, in the Middle Ages, Mary's reputation plummeted. She metamorphosed into the unnamed sinner in Luke 7 who anointed Jesus' feet with her tears. Mary Magdalene as "repentant prostitute" became the most commonly depicted woman in Western Medieval Christian art after the Virgin Mary.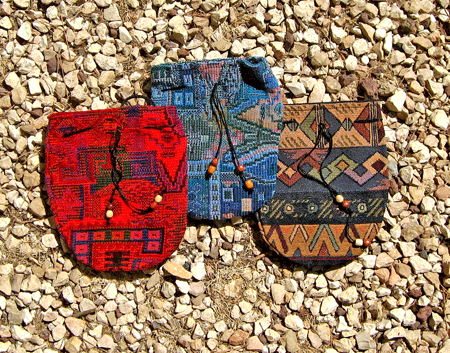 Smart-looking Holy Land pouches
She is often shown as either provocatively dressed or stark naked, covered by her long flowing blond or reddish blond tresses. The artists – and the church -- ignored the gospel references and had forgotten that the preeminent early church theologian Augustine had identified her as the "apostle to the apostles."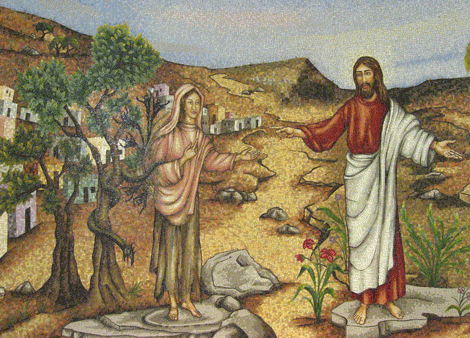 Mosaic in Duc in Altum Chapel at Magdala
Jesus meeting Mary Magdalene | the town of Magdala is at left
But now we have an authentic place to contemplate the real Mary Magdalene and her role in Jesus' public ministry. The site of Magdala itself (so far) is understated. The excavations are visible and there's a lot to see. For those of a spiritual bent, there is an ecumenical center with breathtaking mosaics recalling pivotal events in this area – the call of the fishermen, the casting out of demons and Talitha cumi.
The chapel itself is named "Duc in Altum" which means in Latin, "put out into the deep" from Luke 5:4. (He said to Simon, 'Launch out into the deep and let down your nets for a catch')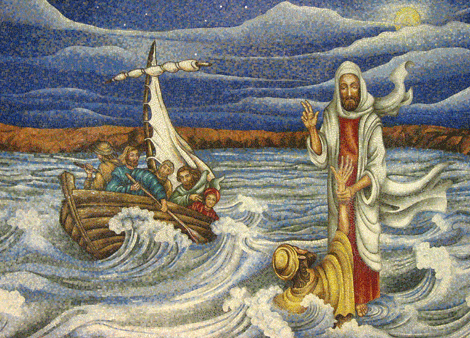 Mosaic in Duc in Altum Chapel at Magdala
"Lord save me!" mosaic in Magdala Chapel
Come with me to Magdala and we will go "into the depths" to explore together Jesus' ministry and message in Galilee! Gila | March 2015
Copyright 2015 Gila Yudkin. Permission needed for any reuse.
When American humorist Mark Twain visited the Holy Land, Magdala was on his itinerary. Tongue in cheek he vividly described being greeted by its blind, crazy, and crippled residents, all begging for baksheesh.
Then he wrote that he and his entourage "filed through the town with many exquisite frescoes till we came to a bramble-infested enclosure and a Roman-looking ruin which had been the veritable dwelling of St. Mary Magdalene, the friend and follower of Jesus. The guide believed it, and so did I. I could not well do otherwise, with the house right there before my eyes as plain as day. The pilgrims took down portions of the front wall for specimens, as is their honored custom, and then we departed."
Perhaps that's why Magdala's ruins are so sparse today! If you are a Mark Twain fan, or contemplating a holy land tour, see Mark Twain's Tips for Holy Land Pilgrims for travel tips relevant for contemporary holy land pilgrims.
Earlier, in 1838, Edward Robinson, the Connecticut Yankee considered the father of biblical geography, visited Magdala while searching for the ruins of Capernaum, the headquarters of Jesus' Galilean ministry.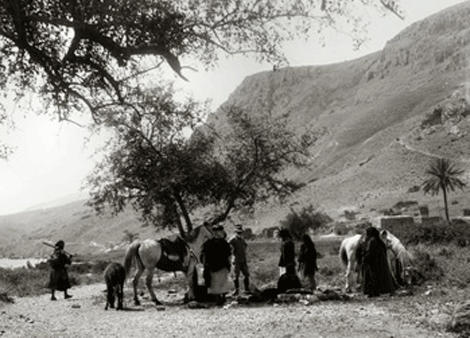 Courtesy of Northmat
Photo of Magdala in the late 19th century
Mary Magdalene is said to be tied to the tradition of painted eggs at Easter. It's said that following the death and resurrection of Jesus, Mary used her position to gain an invitation to a banquet hosted by the Emperor Tiberias. When she met him, she held an egg in her hand and exclaimed, "Christ has risen!" The Emperor laughed and said that Christ rising from the dead was as likely as the egg in her hand turning red while she held it. Just then, as he finished speaking, the egg in her hand turned a bright red.
For more Mary Magdalene stories, book Gila to visit the 24-carat gold onion-domed Church of Mary Magdalene on the slopes of the Mount of Olives. And to hear about the astounding and improbable life of Princess Alice, mother-in-law of Queen Elizabeth II and great-granddaughter of Queen Victoria who is buried in the Church of Mary Magdalene in Jerusalem.