In Joshua's day, Hazor had about 20,000 residents. It was like the London or Paris of the Land of Canaan. In contrast, Jerusalem, 140 miles south, had a population one tenth the size of Hazor.

Jabin, king of Hazor, like all his predecessors, ruled from a magnificent palace on the acropolis of the city. His throne room had an imposing entrance flanked by two huge cedar-of-Lebanon poles standing on a base of quarried basalt stone, each weighing four tons.

Jabin diligently organized a coalition of northern Canaanite cities to block Joshua's advance. He had received a "twitter" that Joshua had not only fought a battle at Jericho where the walls came a-tumbling down, but that he had commanded both the sun and the moon to stand still for an entire day.

The Book of Joshua (chapter 11 verse 13) proclaims that of all the towns standing on their mounds, Hazor was the only town Joshua burnt.
Indeed, archeologists discovered that Hazor was the site of a fierce destruction. A fire reaching 1300 degrees Celsius burned the Canaanite palace. This is twice the heat of an "ordinary" fire. The intensity of the fire may be due to a combination of olive oil stored in vessels near the throne room and the many timbers of cedar wood placed in the mud-brick walls and on the floor of the palace. Add to this, afternoon westerly winds ranging between 50 to 60 miles an hour.

This combination of oil, timber and wind created the very hot fire of 1300 degrees. Excavators, working in a layer of ash up to three feet thick, emerged from the palace as if they had come straight out of a coal mine!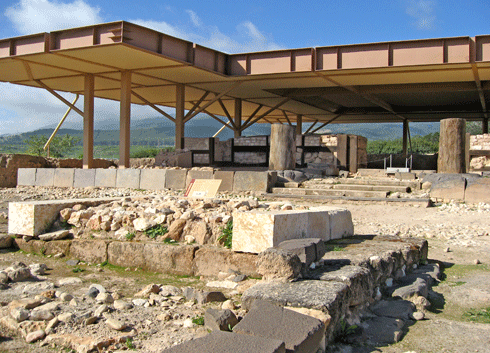 Photo: Gila Yudkin
Evidence of a fierce destruction was found in this Canaanite palace
In the ruins of the burnt palace, archeologists found ivory plaques, cylinder seals, figurines, jewelry, and a large basalt stone statue standing over three feet tall.
Photo: Gila Yudkin
Charred remains (on left) of the mud-brick walls at Hazor's palace
But what about Hazor's National Library? Would the Israelites, being the People of the Book, ransack the library and burn the archives after hamstringing Jabin's horses and decimating his chariots?
More than likely, the archives of King Jabin's predecessors (also called Jabin which was a dynastic name, like King Louis in France or King Henry in England) were already buried, waiting for the archeologists' spade.
In central Egypt letters written on clay tablets from the king of Hatzor were found by archeologists in an archive called the el-Amarna letters. They are dated to the 14th century BC. The twenty-first century equivalent of these clay tablets would be a word document or an excel sheet on a CD.
We learn from these archives that the king of Hazor was accused of conquering several cities of the kings of Bashan (modern-day Syria) and Tyre (Lebanon). The king of Hazor was obviously a power-broker and one of the few Canaanite rulers of
his day who called himself "king" and was called so by others.
In the 1960s a ten-year-old visiting the dig with his parents picked up a broken bit of pottery with triangular shaped cuneiform writing (the script used in Mesopotamia). In an interview forty years later, he claimed that he realized immediately it was "something".

The tablet contained a Sumero-Akkadian dictionary. (Akkadian was the language used by nations of the Fertile Crescent for trade and diplomacy, much as the internet is dominated by English today.) This tablet proves that there were scribes at Hazor and it may have been composed by a scribe to teach other scribes.

Another fragment, found by an American tourist (on his honeymoon!), records a case of litigation conducted in the presence of the king concerning a dispute over real estate at Hazor. Hazor, by the way, is one of the few biblical sites where identification has been confirmed by written documents found on the site.

Photo: Gila Yudkin
Perhaps under these Iron Age ruins, the Bronze Age archive will be found!
Hazor is mentioned several times in even earlier documents found on the banks of the Euphrates River, dated to the 18th century BC. Hammurabi, king of Babylon, sent a special ambassador to reside at Hazor. One document mentions that Jabin, king of Hazor, (Ibni-Adad in the Akkadian language) received three shipments of 35 kilos of tin. Tin alloy was crucial for the production of bronze weapons. (Tin may be the 18th century BC equivalent of enriched uranium!)
Two summers in a row, chief archeologist Amnon Ben Tor showed my Texas groups where he expects to find Hazor's archives. Volunteers from 27 countries were digging strata from the 8th century BC with the tops of pillars from the 9th century BC poking out of the earth. During the next season they will reach the Solomonic strata (tenth century BC). And eventually in the layer of debris from the fourteenth century of the Canaanite period, they hope to find the tablet treasure testifying to Hazor's era of glory.
Photo: Gila Yudkin
Chief archeologist Amnon Ben Tor in the ruins of the burnt Canaanite palace
Ben Tor's enthusiasm is infectious. Chief excavator since 1990, Ben Tor had participated as a student in Yigael Yadin's excavation in the 1950s. He told us that
15 marriages were initiated at Hazor, including his own!
The dig at Hazor is super exciting. The discovery of an archive dating from the patriarchal era or the period of Joshua's conquest could ignite a heated scholarly debate, particularly if it seems to confirm or contradict the biblical narrative. Stay tuned!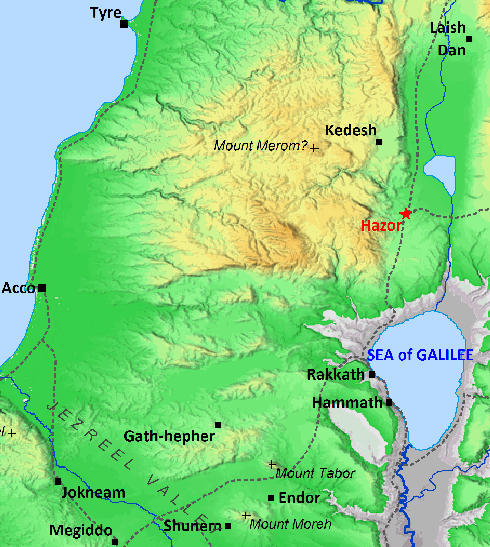 Adapted from Bible Mapper by itsGila
Hazor dominated the international highway heading north and east to Damascus
Gila Yudkin, a Connecticut-born Yankee living in King David's Court, loves mysteries, especially biblical ones. Since she studied to be a guide in 1977, 90% of what she learned in archeology has been proven to be "false." On tour Gila mixes fun, fantasy and facts with a passion for archeology and Bible.

Although Jerusalem's Temple Mount hasn't been excavated (yet!), you can tour Mount Moriah in the company of Abraham and Isaac, David and Solomon, Jesus and the disciples and Mohammed and Gabriel with itsGila's one-hour Temple Mount audio tour.

More Biblical Archeology:

Gezer / Solomon's dowry

Beth Shean / Saul's death

Dan / Mud-brick gate

Priestly Blessing

Megiddo / Solomon's stables

Dead Sea Scrolls

"Let's follow Joshua to Hazor, Canaan's capital" (as text without the photos) is one in the series of free quarterly e-letters sent on request to tour leaders, pastors, clergy, teachers, Bible students, colleagues and friends. If you'd like to receive "Holy Sites: Gila's Highlights" please contact Gila.

Copyright 2010, 2012 Gila Yudkin. Permission needed for any reuse.