After a reign of forty years, the once feisty David lies in his royal bed, shivering, all alone in his last days. Where, then, is Queen Bathsheba? Why isn't she at his beck and call, attending to his every whimper? I always wonder whether her absence is due to a three-decade long simmering resentment over the engineered murder of the love of her youth, her first husband Uriah the Hittite.
Our scene opens in Second Samuel with David strolling on the ramparts of his palace at the high point of Jerusalem, D.C. (David's capital). He spies a bathing beauty on a lower rooftop nearby. David tweets his officials, "Who is this woman?" The reply tells him that she is the daughter of Eliam, a member of his inner circle of champions and the wife of Uriah the Hittite, likewise a loyal champion. (Second Samuel 23:34,39)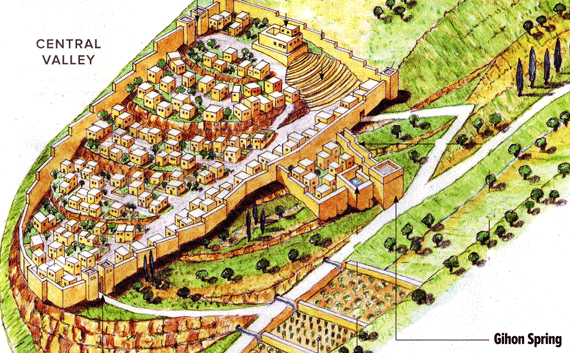 City of David diagram
Bathsheba's roof was somewhere below David's palace
So, from the get-go, David knows Bathsheba is a married woman – and supposedly off-limits. However verse 4 in Second Samuel tells us he brazenly sent envoys to fetch her to bring her and he laid with her. From the Hebrew text with its curt verbs it seems that David is the initiator, the activist.

We don't know whether Bathsheba was frightened or flattered at the summons. She seems totally passive. In fact, the first time she speaks it is to send David a message, "I'm pregnant."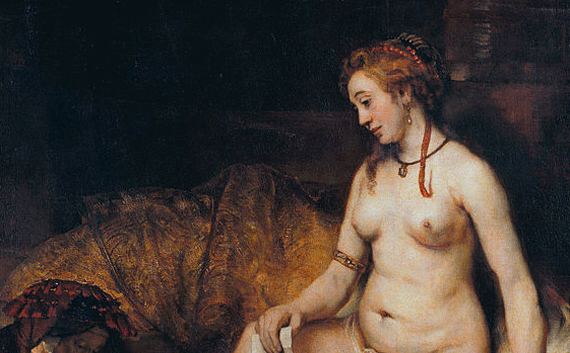 Courtesy of Wikipedia Commons
Rembrandt paints Bathsheba (in 1654) holding a note from David
David loses no time in summoning Uriah the Husband home from the fighting front. David needs a cover story, for adultery was a capital offense in Israel and indeed, throughout the ancient Near East. And furthermore, "shaming," as it's called today, cut across cultural boundaries and class lines. Everyone, including the king was vulnerable.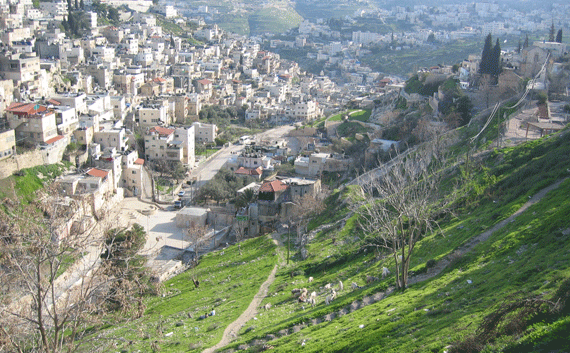 Photo: Gila Yudkin
City of David would have been on right | the mirror image (today Silwan) is on left
Uriah arrives at the palace, but, alas, he refuses to go home to his wife, even when David plied him with the most potent palace wine. The cover-up scheme to present Uriah as the father of the to-be-born is thwarted.
Perhaps Uriah even suspected David's motives, for he knows the king well, perhaps too well, from the time David was a man on the run from Saul. Or perhaps Uriah overheard courtyard gossip that David had summoned Bathsheba in his absence.
David even sent Uriah a gift of food (was it spicy shish kebab?) like a doggy bag, but Uriah ignores the royal command to go home. Uriah insists on sleeping amidst the palace guards near the king's bedroom.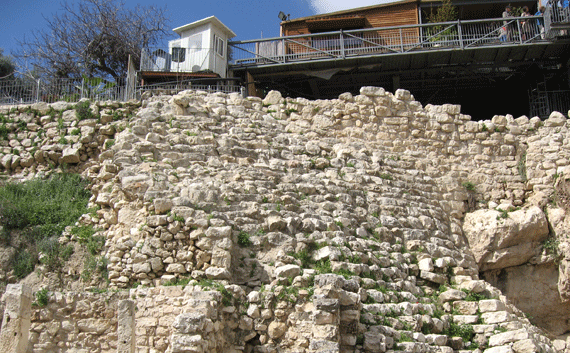 Photo: Gila Yudkin
The king's bedroom could have been where the brown wooden structure is
David (the "engineer") then sends Uriah back to the front with a sealed message that Uriah be put in the fore-front so he will fall in battle. Uriah is sent with others to fight by the city gate of Amman (today capital of Jordan) where the fighting was fiercest. As expected, Uriah fell. I imagine David, hearing the news, heaved a sigh of relief, thinking he got away with his crime without "shaming."
After the mourning period, David sends for Bathsheba and marries her. The cover-up is seemingly complete. Until Nathan the prophet appears.
Nathan tells David a parable about a rich man who had exceedingly many lambs. Nevertheless the rich man helps himself to a poor man's single ewe lamb to slaughter for a feast. David is incensed at this injustice and shouts that the man who did this should surely die. Then Nathan fingered David, "You are the man!"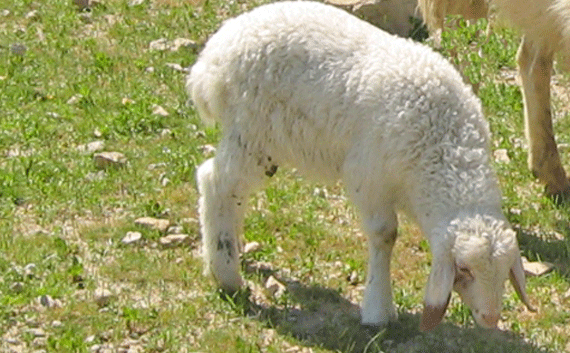 Photo: Gila Yudkin
Little ewe lamb in the wilderness of Judea
In the aftermath of Nathan's appearance, David composes Psalm 51, a song of repentance for the chief musician. Part of it follows:
Purge me with hyssop and I shall be clean,
Wash me and I shall be whiter than snow.
Make me hear joy and gladness,
That the bones You have broken may rejoice.
Hide your face from my sins,
And blot out all my iniquities
Create in me a clean heart, O God,
And renew a steadfast spirit within me.
Do not cast me away from Your presence,
And do not take Your Holy Spirit from me.
So then, David is the rich man with multiple wives. Is Bathsheba the "poor man" with only one husband and Uriah the ewe lamb who is slaughtered? Or should we think that Bathsheba is the ewe lamb that is sacrificed with Uriah being the poor man?
We can discuss this as we ourselves stand on the highpoint of David's City when you come to Jerusalem. We'll have a mirror image of the congested sloping city built above the Gihon spring and the Kidron Valley. We can contrast Bathsheba's passivity at the first encounter to her assertiveness when she reappears on stage in the closing scene of David's life.
COMING TO JERUSALEM?
BOOK GILA for your customized private tour
Bathsheba in Hebrew means "daughter of the oath." Did David indeed take an oath that their surviving son Solomon would rule after his death? Or was it a manipulation (or fabrication) of Bathsheba?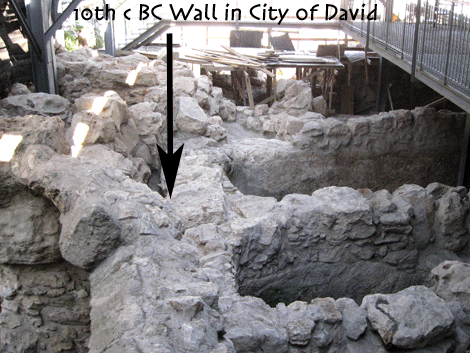 Photo: Gila Yudkin
Is this massive 10th century BC wall in Jerusalem part of David's palace?
There's lots to talk about in David's City where the black and white print just jumps off the page as the characters acquire three dimensions in their actual habitat. Don't miss it!
Copyright 2015 Gila Yudkin. Permission needed for any reuse.
Postscript from Kathy Merwin, Hudson, OH
Gila, reading this, I felt like I was there and you were talking to me - you write with the same 'voice' you use to guide us!

I am a daily reader of the Proverbs, and every time I come back around to Proverbs 1, I am reminded of the good that God brought out of this story, that Solomon was born and penned so much wisdom for us, things that are true down through the ages.
If you'd like your own one-on-one half-day Jerusalem tour book Gila. You can create your own tour with her where those beloved bible characters jump off the pages right in front of your eyes!
David bought the Temple Mount for 50 shekels of silver and today it's at the epicenter of the (Near East) universe. Listen to Gila's one hour audio tour of the Temple Mount as a CD.

Gila's Temple Mount tour is now also available as a written 24-page PDF with a Temple Mount plan, guidelines for passing the security check and ten recommended reads on the Temple Mount from Gila's bookshelves.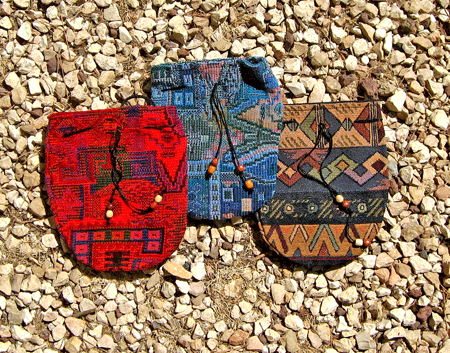 Bathsheba's pouch
Bathsheba's pouch is big enough to hold her house keys and some change when she was summoned to David's palace! It could also hold the five stones David scooped up from the Valley of Elah before aiming at Goliath.