Here are the twelve most ogled and googled articles on my site this month.
1. Gates of the Old City. A handy orientation to Jerusalem's Old City includes the history, geography, archeology and legends about its nine gates. A chart of the gate names in English, Hebrew and Arabic will help you navigate its ancient alleyways.

2. The ABCs of What to Bring on your Holy Land Visit From batteries to "holy" dress to a questioning mind to your sense of humor. Everything you need to make your pilgrimage a success without being overloaded with "stuff."

Photo: Gila Yudkin

You'll need enough digital memory to shoot these goats on your last day!

3 David was at Ziklag (on the periphery of Philistine territory) when he heard about the death of Saul and Jonathan. Scholars have been looking for Ziklag, for well over a century. Has it finally been identified? See photos.

Adapted from Bible Mapper by itsGila

Has Ziklag, David's Philistine base finally been identified?

4. Ask Gila, "Where's the best place to propose on my Holy Land pilgrimage?"

Photo: Gila Yudkin

The Mount of Beatitudes is under the left side of the rainbow

5. Veronica. According to a 14th century Via Dolorosa legend,Veronica wiped Jesus forehead with her handkerchief and his image stuck to the handkerchief.

Photo: Gila Yudkin

Facade of Station Six where "Veronica wiped Jesus' face"

6. Pool of Siloam. About the 2005 discovery of the authentic Pool of Siloam where Jesus told a man born blind to go wash off his eyes.

mid-19th century drawing

Photo: Gila Yudkin

Pool of Siloam called the Virgin's Fount

Wrong location of the Pool of Siloam

7. Was the famed Balm of Gilead actually from a tropical plant in En Gedi?

Courtesy of Wikipedia Comomons

The Balm of Gilead from En Gedi was a popular antidote to snake bites
-- could it have cured the coronavirus??

8. Herodion Updated: 2021. During the pandemic in March 2021, when there were no tourists in the land, I returned to Herodion just after the loggia, the "royal box" was opened to the public. The theater had been restored and the steps mentioned by Josephus Flavius which once led up to the Upper Palace have been reconstructed.

Photo: Gila Yudkin

Podium of Herod's Mausoleum with a model of the tomb based upon Absalom's tomb

9. Handy Hebrew phrases. Ten Hebrew phrases which will help you connect with Israelis you will be meeting during your pilgrimage. As a bonus, some colorful local colloquialisms.

"Next year in Jerusalem!" | Ha Shana Ha Baa b'Yerushalayim

10. Cave of Adullam. After over three decades of guiding, Gila finally found David's hiding place in the Cave of Adullam

Photo: Gila Yudkin

The opening to the Cave of Adullam, hidden in shadow

11. Absalom was David's unrepentant rebellious son who according to folk tradition was buried in Jerusalem's Kidron Valley. "Let's throw stones at Absalom's Tomb" separates myth from fact.
12. When Gila visited the Church of the Holy Sepulcher in July 2020 there were no more than five worshippers offering silent prayers. Orient yourself to this phenomenal church with Gila's photos.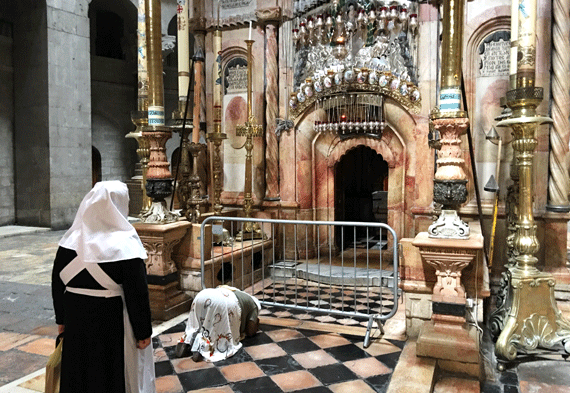 Photo: Gila Yudkin
The sisters are facing the Aedicule which encloses the holy tomb, station #14
Latest posts
Herodion updated to March 2021. Today you can ascend Herodion via the 2,000-year-old steps described by ancient historian Josephus Flavius.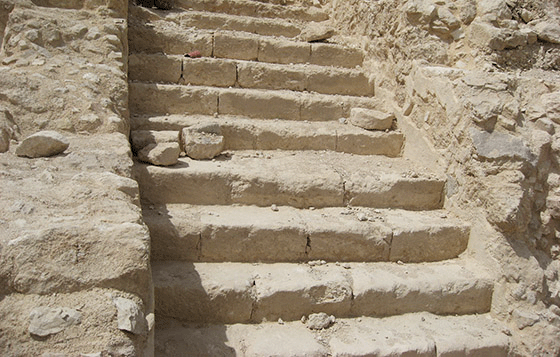 What's the story with the ladder on the facade of the Holy Sepulcher Church?
Photo: Gila Yudkin
A ladder has been seen perched on the facade for nearly three centuries!
Born in Windsor Palace and buried on the Mount of Olives, the eccentric Princess Alice, mother-in-law of Queen Elizabeth II who became a Greek Orthodox nun, led an astonishing and improbable life.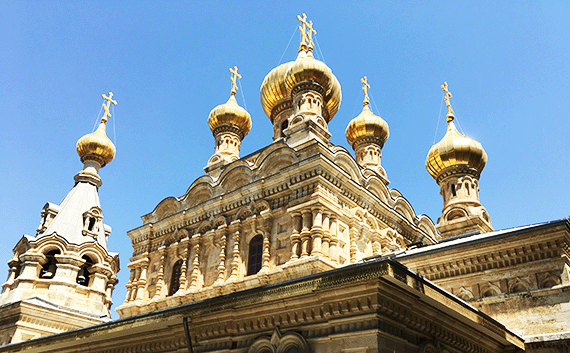 Photo: Gila Yudkin
Princess Alice's final request was to be buried on the Mount of Olives
"Spooked in Samaria" is a chapter from Gila's book in progress, Holy Land Haunts: Four Decades of Spirited Guiding. It describes the first dangerous dilemma Gila faced as a guide.