Three days after Jerusalem's heaviest snowstorm since February 1950 (!), I was in the Garden of Gethsemane which was still covered with patches of frozen white snow. I was dumbstruck by the sight of the vibrant silver-green leafy branches of the gnarled two thousand year old olive trees.
At this time thousands of Jerusalem residents were still without electricity because so many trees, unable to bear the weight of the snow, had fallen over electric lines. Yet the olive trees in the Garden of Gethsemane appeared to be completely undamaged and even unstressed.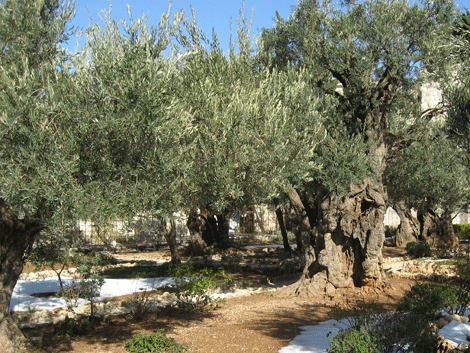 Photo: Gila Yudkin
Gethsemane's sturdy old olive trees after heaviest snow since 1950!
It was here in the Garden of Gethsemane, nearly two thousand years ago, that Jesus told Peter and the sons of Zebedee, "My soul is exceedingly sorrowful even to death. Stay here and watch with me." But the disciples, perhaps having imbibed too much wine earlier at the Passover-type meal, kept dozing off as Jesus faced the fate of imminent arrest which would lead to his crucifixion.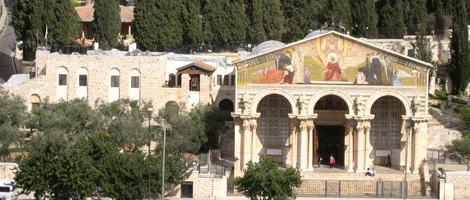 Photo: Gila Yudkin
The ancient olive trees are to the left of the Church of All Nations
On my mid-December visit, I realized that the Garden of Gethsemane of 2,000 years ago where Jesus took refuge, would indeed have had such hardy olive trees. And, during the Passover season, the tiny white olive blossoms would probably have been visible by the light of the full moon.
As Jesus prayed, he may have even noticed the branches that shoot out of the root of the tree, reminding him of Isaiah's prophecy. "A branch will come forth out of the root of Jesse." (Isaiah 11) Or remembering Psalm 52, "But as for me, I am like a green olive tree in the house of God. I trust in the steadfast love of God forever and ever."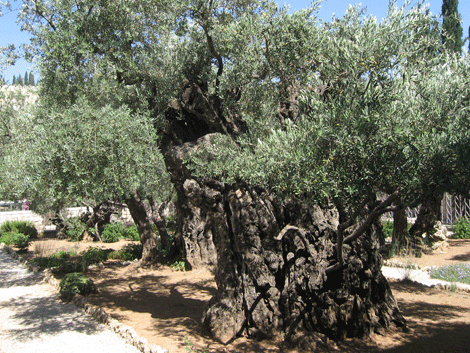 Photo: Gila Yudkin
Magnificent two thousand year old olive tree in the Garden of Gethsemane
Luke tells us that an angel appeared to Jesus from heaven, strengthening him. But "being in agony, he prayed more earnestly. Then his sweat became like great drops of blood falling down to the ground." (Luke 22) Gethsemane itself means "oil press" from the Aramaic, "gat shemani". Here in the Garden of Gethsemane Jesus was pressed so that he sweat blood. And then he was arrested.
The trees we so admire today may have been witnesses (as young shoots) to that agonizing night of prayer and subsequent arrest. We can't know for sure, for olive trees don't have rings. All other olive trees in Jerusalem and its surroundings were apparently cut down by the Romans as they were besieging the city in 70 AD. These, however, survived, or at least their roots did.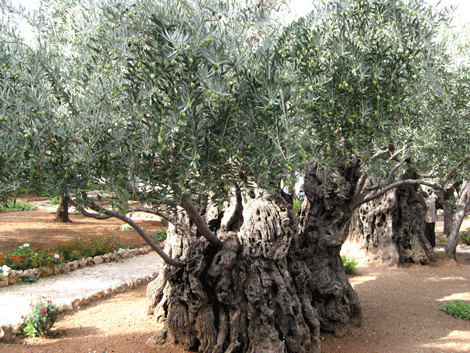 Photo: Gila Yudkin
Ancient tree dripping with olives in the Garden of Gethsemane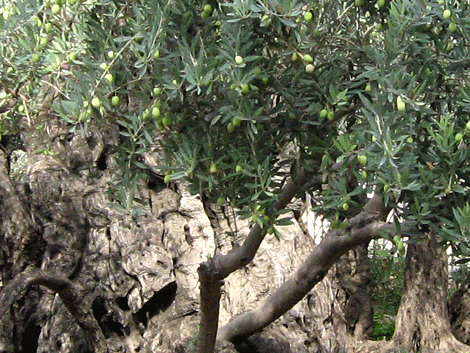 Photo: Gila Yudkin
Close up of olives on new branches from the same ancient tree
Nearly a thousand years earlier, the kings of Judah were anointed with oil from the olive trees on the Mount of Olives and the Garden of Gethsemane. In Jewish tradition, the redeemer came to be called the "Anointed One," meshiach in Hebrew. Its English derivative is "messiah."
COMING TO JERUSALEM?
BOOK GILA for your customized private tour
Come to Jerusalem to experience the Garden of Gethsemane for yourself. If you visit during the months of September, October or early November, you'll see the trees, even at such an advanced age, heavily laden with fruit. We should only be so healthy! And you'll note that olive trees are just like us. The older they get, instead of getting taller, they just get wider!
Copyright 2014 Gila Yudkin. Permission needed for any reuse.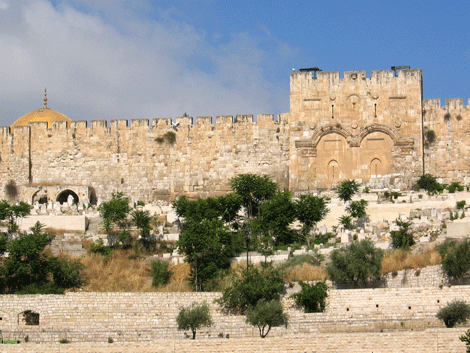 Photo: Gila Yudkin
View of the Eastern Gate from the Garden of Gethsemane
Gila Yudkin, who calls herself a Connecticut Yankee living in King David's court, has been visiting the Garden of Gethsemane in all seasons for well over three decades. She even knows the best times to bring her groups when the garden is least crowded.
If you are a solo traveler heading for the holy land, you may want to book Gila for an awesome day in Jerusalem and Bethlehem, according to your own particular interests and pace. Read what solo travelers say about her memorable customized funky Jerusalem tours.
In November, a month before the historic snowstorm, Gila took her groups up to a spectacular barely visited vantage point over the Sea of Galilee. When it became too scorching hot for her Canadians to bear, Gila sat them under a couple of very robust olive trees which provided enough shade for thirty people! They then saw the olive tree as a symbol of beauty, just like Hosea who prophesized, "His shoots will sprout and his beauty will be like the olive tree." (Hosea 14:5)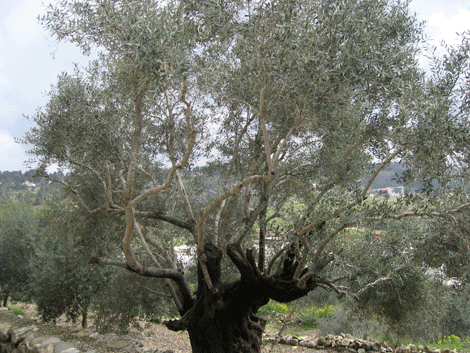 Photo: Gila Yudkin
In Hosea's prophecy, the olive tree is a symbol of beauty