We don't know what Pilate's wife dreamed of, or even her name, but it seems that she exerted a great deal of influence upon her husband, Pontius Pilate. For this reason, Eastern Orthodox tradition honors Ms. Pilate as a saint on October 27th and names her Claudia Procula.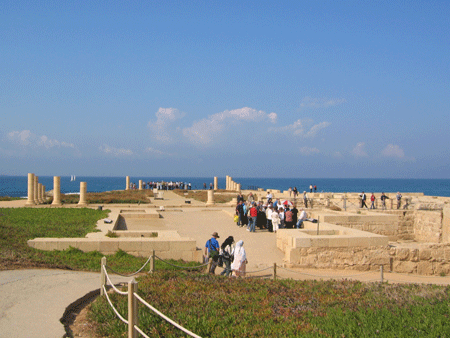 Photo: Gila Yudkin
View of Pontius Pilate's palace, looking west
We assume she would have come to Judea in 26 A.D. when Pilate was appointed provincial governor by Roman Emperor Tiberius. They would have taken up residence in the royal seaside palace at Caesarea built four decades earlier by Herod the Great. Along with her husband, Claudia would have patronized a variety of cultural events in Caesarea's magnificent theater and enthusiastically cheered on her favorite chariot drivers competing in the adjacent hippodrome.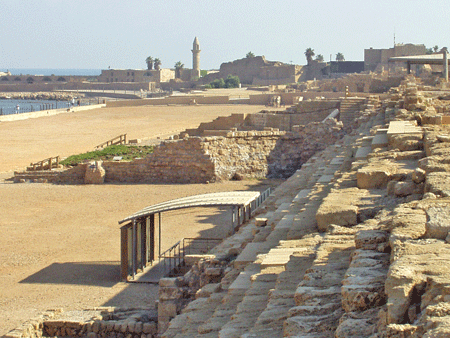 Photo: Gila Yudkin
On right, rows of original seats in the hippodrome or horse course
The palace itself, built onto a rocky promontory, had a brilliantly decorated dining area, a fountain, colonnades and – a nearly Olympic-size swimming pool. Coated with hydraulic plaster, the pool was fed with fresh water drawn up from the underground water table. It may seem strange to find a fresh-water swimming pool next to the Mediterranean, but swimming in the sea was evidently frightening and dangerous, as the Caesarea coast is pounded by powerful surf.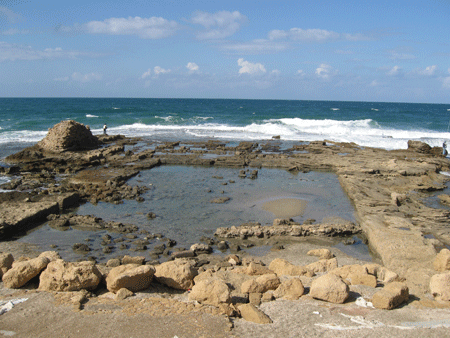 Photo: Gila Yudkin
Remains of Ms. Pilate's swimming pool
Would Claudia have worked on perfecting her breast-stroke before she left with her husband that fateful spring to journey up to Jerusalem? Because the Jews gathered in great numbers during the seven-day Passover feast, Pilate feared an insurrection and needed to be close to the Temple to maintain order. In Jerusalem, Claudia and Pilate lodged in another of Herod's buildings, a fort towering over the Temple, named after Herod's first Roman patron, Marc Antony.
It was at the Antonia Fort, the Praetorium, (John 18) that Jesus of Nazareth, accused of sedition, was brought before Pontius Pilate for trial and then led away to be crucified. Presumably unaware of the profound ramifications of this act, the governor and his wife returned to their Caesarea residence after the Passover feast to carry on their agenda of promoting Roman culture in the provincial capital.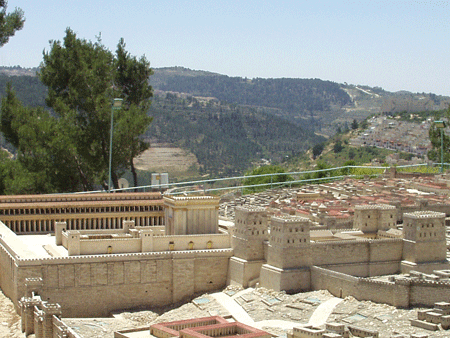 Photo: Gila Yudkin
Model of the Antonia Fort with four towers overlooking Jerusalem's Temple
Claudia may have been haunted by dreams of the injustice perpetrated by her husband. Or she may have simply slipped back into the role of the governor's wife, occupying herself with notions of redesigning the frescoes in the seaside palace or supervising the decorating of niches around the pool with exotic spice plants and fragrant flowers.

In the year 36 A.D. Claudia reluctantly left Caesarea when Pilate's tenure was abruptly terminated. He was urgently summoned to Rome to answer charges of brutality. When the couple arrived in Rome, Tiberius was dead and another governor over Judea had been appointed to replace Pilate.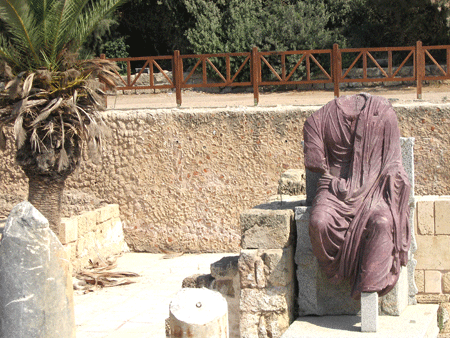 Photo: Gila Yudkin
Headless statue of one of Rome's emperors, found at Caesarea
When we visit Caesarea, let's allow enough time to stroll through Pilate's Promontory Palace. At its entrance, we'll notice a copy of a stone which once graced a public building called the Tiberium, dedicated by Prefect [governor] Pontius Pilate to the emperor.

Once Tiberius and Pilate were long gone and forgotten, the dedicatory stone was "recycled" during the third century renovations of the theater. It was discovered by students excavating in 1961. The original stone is now on exhibit at the Israel Museum in Jerusalem.
As we check out Claudia's swimming pool, originally built by Herod the Great, we'll note one of the outside walls is still standing intact, two storeys high. We may even observe some students exposing some of the colorful mosaic floor tiles in the palace.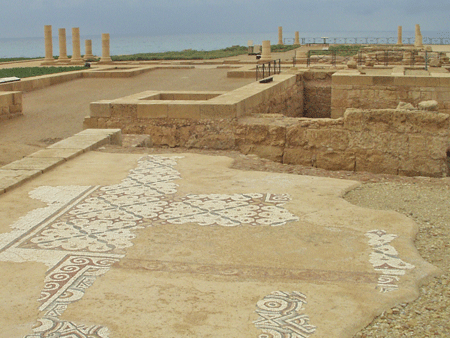 Photo: Gila Yudkin
Roman mosaic unearthed at Pilate's palace
There is nothing like my extended tour of Caesarea – with the theater, hippodrome, harbor, aqueducts and Pilate's Palace all framed by the Mediterranean – to elevate the mood of your participants and challenge your photographers with endless panoramic opportunities. It's fun and hands-on with lots of juicy -- and important -- stories. (Remind me to share my favorite: "The Owl announces Agrippa's death." It's the Josephus version of Acts 12.)

As we stroll through the ruins Bible in hand, we recall that in addition to Pilate and Claudia, Cornelius, Peter, Philip and Paul all sojourned here at this sensational biblical site.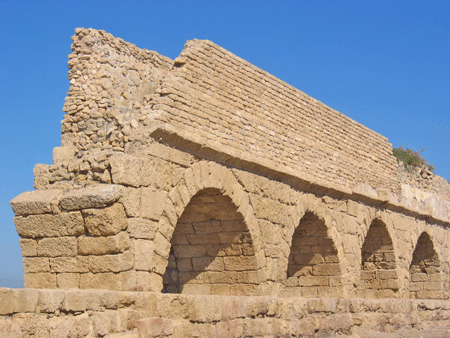 Photo: Gila Yudkin
Caesarea's two-thousand-year-old aqueduct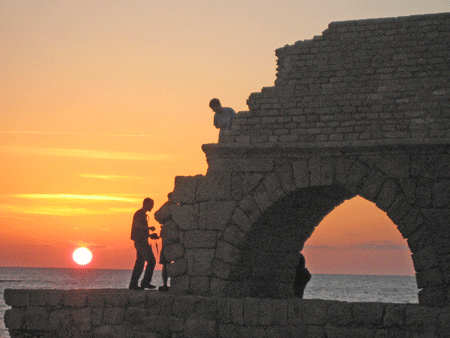 Photo: Gila Yudkin
Caesarea's ancient aqueduct at sunset
Copyright 2007, 2011 Gila Yudkin. Permission needed for any reuse.
Gila Yudkin, a Connecticut Yankee guiding in King David's court, has been sharing biblical insights on site in the Holy Land for over 30 years. She herself loves photographing Caesarea, particularly on windy and stormy days -- and at sunset.

On tour, Gila mixes fun, fantasy and facts with passion for archeology and Bible. Be sure to contact her in the beginning stages of planning your tour to check her availability.