Gila's Gift Shop is temporarily closed until January 1, 3019 while Gila is engaged in a travel study adventure. Please visit in 2019!
Visit the Temple Mount in the Holy City and you more than likely will be dazzled by the golden Dome of the Rock. You may be surprised by the spaciousness of the Temple courtyard, still the same dimensions as in the time of Jesus. The Temple Mount encloses the threshing floor of Arnan the Jebusite which was bought by King David who then planned a "home" for the Ark of the Covenant. Over three thousand years, the Temple Mount has retained its sanctity (and its news-worthiness), to this very day.
Gila's Temple Mount audio tour takes you on a one-hour tour in the company of Abraham and Isaac, David and Solomon, Jesus and the disciples, the angel Gabriel and Mohammed. Plus you meet many other luminaries, both real and legendary.
Gila's engaging commentary is peppered with stories of King David's tribunal, Mohammed's fanciful steed, the ruckus with the money-changers, a murder at the Al Aqsa, the scales appearing on the Day of Judgment, a brazen forgery and the secret location of the Ark of the Covenant.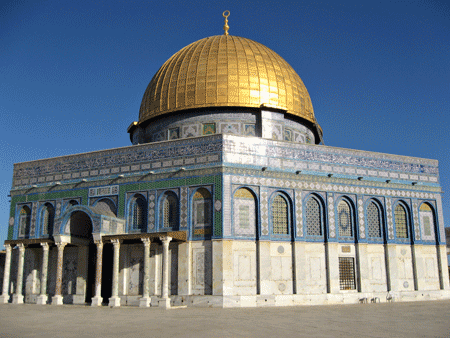 Photo: Gila Yudkin
Many believe the Ark of the Covenant stood on the bedrock inside
Gila's Temple Mount audio tour is for you if:
you wish to spend a full hour or more exploring the Temple Mount
you are open to Christian, Jewish and Muslim perspectives, history and legend
you are curious, inquisitive and spirited
you enjoy occasional touches of humor
you want to bring home an enduring memory of your visit
"My husband Jeremy and I listened to your Temple Mount audio tour together yesterday (I'd already listened to it myself) and Jeremy (who has a scholarly and religious interest in such things and values clear thought and language) thought it was truly wonderful!" Catherine Garrett, Canberra, Australia
LISTEN free to the first two minutes of itsGila Temple Mount audio tour:
Click here and then click "download" at top right

LISTEN TO itsGila Temple Mount audio tour on your iPhone!

Now also available as a written 24-page PDF with a Temple Mount plan, guidelines for passing the security check and the ten best reads on the Temple Mount from Gila's bookshelves.
You can purchase Gila's Temple Mount audio tour either as an MP3 audio file or as a CD audio disk. The MP3 audio tour costs $14.99. After payment you will receive a link where you can download the two MP3 audio files, part 1 and part 2. Each part is about 30 minutes. You will receive the link for downloading the MP3 files within 24 hours after your purchase.
"I recently ordered and downloaded your MP3 Temple Mount audio tour.
I like how you talk about the history of the area. Your speaking voice is clear to understand, you speak in plain English, and you go at a good pace. It is excellent." Joel Silver, Chicago, IL
Gila's Temple Mount one-hour audio tour as a CD audio disk costs $14.99. There is an added shipping cost of $4.99 which comes to $19.98 altogether. Please allow 12 business days for the CD to travel from Jerusalem to your mail box.
During Gila's Temple Mount audio tour, you will hear an intriguing story related to the following sites:
In Gila's Temple Mount audio tour, Gila shares thirty years of first hand observations, as she has guided tens of thousands of visitors around this sacred site, considered by many Jews and Muslims to be the "center" of the universe.
If you are coming to Jerusalem or perhaps you may be in Jerusalem already, order Gila's Temple Mount audio now. If you have already visited Jerusalem, then the audio tour can stimulate your memories as you listen to the tour while reviewing photos of your own Temple Mount visit.
"Gila guides like no one else I have ever known -- brilliant, sincere,
carefully, and reverently. I have just completed listening to her two CDs
of 'Audio Highlights' -- her Jerusalem and Jericho and her Temple Mount
Tour. Anyone interested in these sacred places will never forget her superb presentations. Her 'electronic journeys' are rich, rewarding, and
chock-full of insights. I heartily recommend them!" Dr. W. Randall
Lolley, Seminary President and Pastor, North Carolina