Opposite the saltiest sea in the world is the oasis of En Gedi with its four springs of sweet water. This abundance of fresh water attracts the ibex, a wild agile goat-like animal which makes startlingly graceful vertical leaps up the sheer limestone cliffs of the Judean wilderness.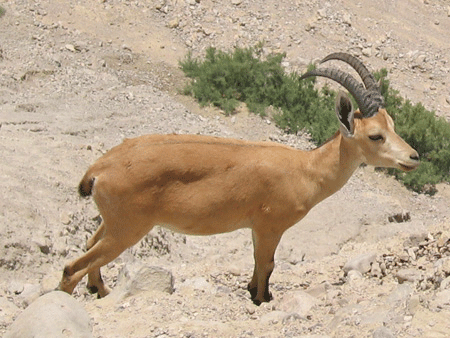 Photo: Gila Yudkin
Nubian Ibex at En Gedi
It was in the "Rocks of the Ibex" (or as the King James version calls them, the wild goats) that David, a man on the run, had gone to hide from a furious Saul who had determined to kill him. After David killed the uncircumcised giant with a sling and a stone, the number one download on i-tunes was "Saul has his thousands, but David his ten thousands!" (First Samuel 18) When the Israelite women danced to this ditty, Saul simply went berserk.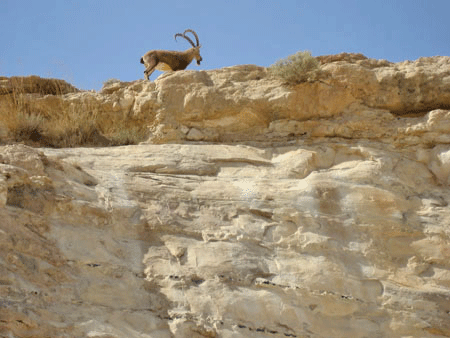 Photo: Gila Yudkin
The outlaw David hid in the Rocks of the Ibex at En Gedi
At his hide-away in the stronghold of En Gedi, David had a most unexpected encounter with Saul – in the most embarrassing circumstances imaginable for the Israelite king. Saul had the misfortune to enter the very cave where David and his group of outlaws were hiding in order to "cover his feet." This is a very vivid euphemistic image. While Saul was squatting to answer the call of nature, David crept up to tear off part of the royal robe.

When David presented Saul with the torn piece, Saul probably had a flashback to another ripped garment – this time Samuel's. During their last meeting as Samuel rose suddenly to depart, Saul grabbed onto Samuel's robe and accidentally tore it. Samuel sternly announced, "Today the Lord has torn the kingdom of Israel from you and given it to a neighbor of yours who is better than you." (First Samuel 15: 28)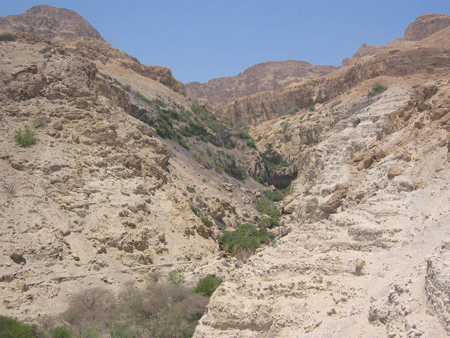 Photo: Gila Yudkin
Oasis of En Gedi in the Judean Wilderness
At En Gedi Saul realized that David, who had just spared his life, was the one to receive the kingdom – instead of his eldest son, Jonathon. A remorseful Saul begged for forgiveness and swore never to try to kill David again. This vow he kept…until his next fit of jealousy!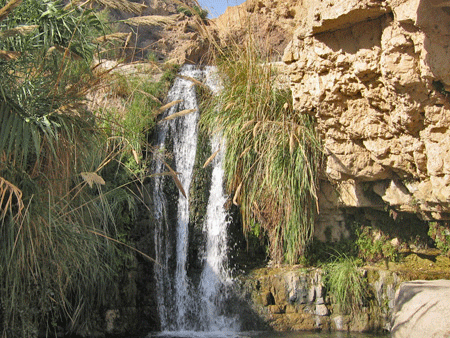 Photo: Gila Yudkin
David's waterfall at the En Gedi oasis
Just as En Gedi served as a refuge for David, the psalmist says, "the high hills are a refuge for the ibex." (Psalm 104: 18) As we walk through En Gedi's nature reserve, we often see ibex (pronounced eye-becks with singular and plural the same word) scampering up the rocky cliffs for safety. Even the most skilled human rock climber cannot keep up with an ibex more than two days old!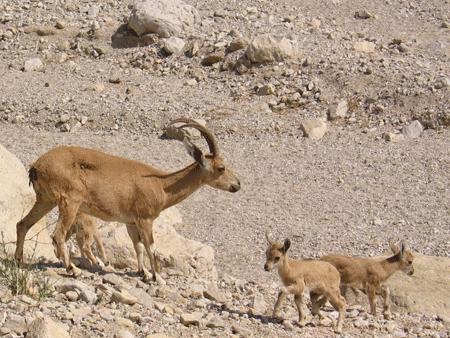 Photo: Gila Yudkin
Mom and baby ibex at En Gedi
During mating season we watch and listen as the males butt their long arched horns against each other in a ritual ceremony to determine who will win the female. Whenever I see this contest, I can't help but fantasize what it would be like to have two males – or even three – fighting so intently to win my affections!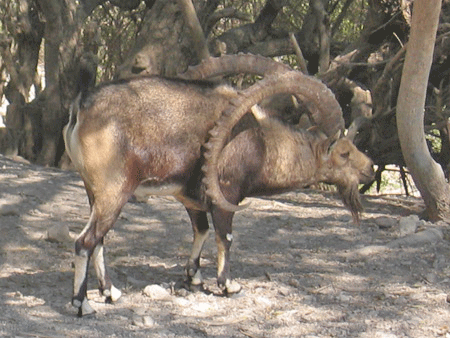 Photo: Gila Yudkin
Great-granddaddy ibex at En Gedi
For photographers, En Gedi is a paradise. Contrast the gray/beige rocks with the lumps of verdant green grass as the ibex run across our path. I once saw the scariest-looking great-granddaddy and sometimes in season, we see baby ibex, just been born. And if we can't shoot (i.e. photograph) the ibex, then we'll look for coneys or rock badgers. After mentioning the ibex, Psalm 104 continues, "and the cliffs are a refuge for the rock badgers."
Photo: Gila Yudkin
Coney also known as hyrax or rock badger at En Gedi
The climate of En Gedi, particularly suited to the ibex and coney, was also ideal for the cultivation of date palms. The Apocryphal book of Ben Sira says, "I was exalted like a palm tree in En Gedi."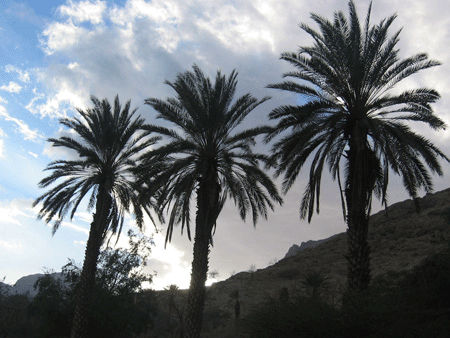 Photo: Gila Yudkin
En Gedi is also known as the city of the date palms
En Gedi's climate was also idea for balsam. Extracted oil from the balsam, when processed in a secret way known only to the ancient residents of En Gedi, produced THE most exotic perfume in the entire empire of Rome.

When it was Cleopatra's birthday, her lover Marc Antony presented her with a vial of perfume extracted from the balsam plant in En Gedi, and for good measure, threw in the balsam plantations themselves! Remind me on site to share some juicy balsam stories with your group…
Come with me, you photographers, to the lovely oasis of En Gedi where we'll try to shoot ibex, male and female of all ages. Start your own collection of evocative holy land photos!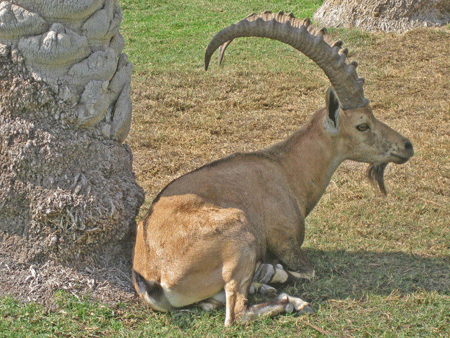 Photo: Gila Yudkin
Male ibex resting against a date palm at En Gedi, 2010
Copyright 2011 Gila Yudkin. Permission needed for any reuse.
Gila Yudkin, a Connecticut-born Yankee living in King David's court, has been hiking in En Gedi for way over three decades. It's getting steeper (!) but she loves sharing the adventure of finding ibex with her groups. Gila's tours are a mix of biblical fun, fantasy and fact, as she adds color and contour to your favorite Sunday School stories.
Fellow Connecticut Yankee Edward Robinson identified Masada while he was waiting for the water to boil early one morning in 1838 at En Gedi. Read about how Robinson tackles biblical geography.

Cleopatra was not from Connecticut! She was not Egyptian either, nor was she beautiful. Get the true scoop on Cleopatra and the holy land.