Elizabeth, from the Hebrew Elisheva, means God's abundance. But Elizabeth was childless. She and her husband Zachariah were well on in years and may have given up on having a family.
One day when Zachariah was on duty in the Temple, standing by the great altar holding a cup full of burning coals and incense, the angel Gabriel suddenly appeared. Zachariah was startled and frightened. (I always wonder what Gabriel looked like because his first words are always, "Don't be afraid!")
The angel patted his shoulder, reassured him and pronounced the amazing news to Zechariah that his wife Elizabeth was to give birth to a son. Zechariah's first reaction was disbelief and a demand for proof. Gabriel then formally introduced himself and left Zechariah mute in punishment for his initial doubt.
Elizabeth did indeed become pregnant and anxiously awaited the birth. Meanwhile, Zechariah remained mute, so it's not as if they could share their expectations and excitement. It may have been a lonely pregnancy, at least until Cousin Mary appeared on the scene.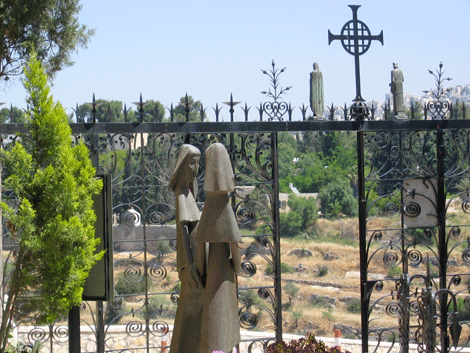 Photo: Gila Yudkin
Meeting of Elizabeth and Mary, remembered at the Visitation Church
Mary, to whom Gabriel also appeared, lived in the Galilean village of Nazareth about ninety miles north of the hill country of Judea, home to Elizabeth and Zachariah. A pregnant Mary traveled by foot, or by donkey, along a land of hills and valleys studded with many, many rocks to come visit her cousin Elizabeth. Imagine those conversations!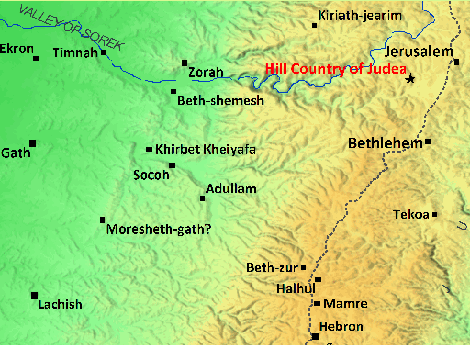 Copyright 2014 by Gila Yudkin
Map locating Elizabeth's home in the "Hill Country of Judea"
Elizabeth's hometown in the "hill country of Judea" is traditionally identified as Ein Karem, a village on the western outskirts of Jerusalem. Ein Karem means "spring of the vineyards," alluding to the many terraces cultivated with grape vines as well as fig, olive, pomegranate and almond trees.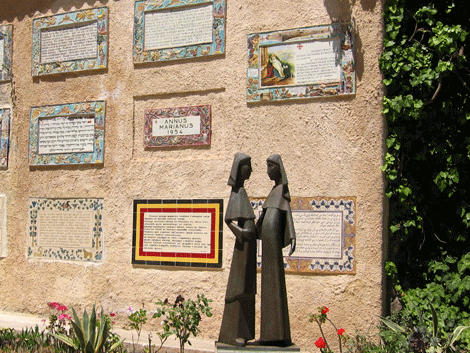 Photo: Gila Yudkin
Courtyard of the Visitation Church
The Visitation Church in Ein Karem commemorates Mary's visit with pregnant cousin Elizabeth. Don't miss the two great statues of the pregnant women. At the foot of the church is a cave believed to have hidden the infant John as King Herod's soldiers searched for infants under the age of two after being told of Jesus' birth.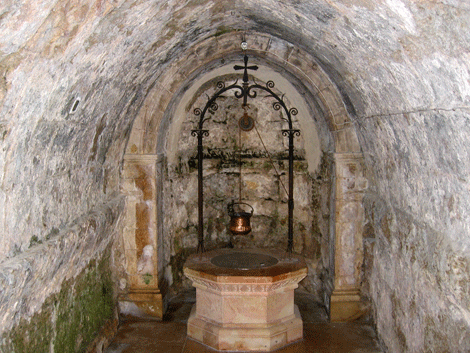 Photo: Gila Yudkin
Grotto below the Church of the Visitation
Also in Ein Karem is the Church of St. John the Baptist, reputed to be built over the site of the home of Elizabeth and Zachariah. The most venerated part of the church is the grotto where it's said John was born. Here we remember the next part of Elizabeth's story: I can imagine it well because we have the same custom in Judaism today.
The boy is publicly named for the first time on the eighth day during the circumcision ceremony. All the relatives are gathered, probably whispering among themselves, waiting curiously for the boy to be named. Then there's a silence as Elizabeth declares, "His name will be John." And the relatives say, 'What?? He should be named Zachariah after his father! No way. No one in your family is named John."
Then the crowd turned from Elizabeth to her husband and he signaled that a writing tablet be brought to him. And he wrote, 'His name is John." Then Zechariah began to speak.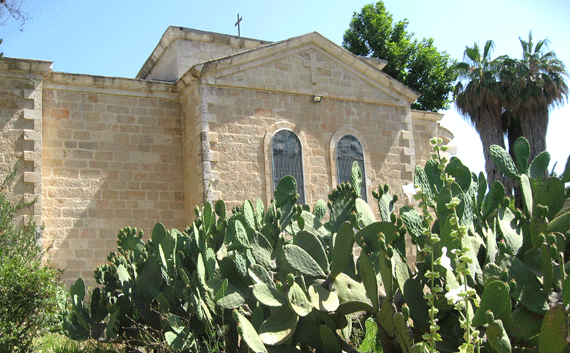 Photo: Gila Yudkin
Ein Karem's Greek Orthodox Church of St John
Ein Karem is, or was, considered to be a "traditional" site, without much confidence that there was even a village here in the days of Elizabeth and Zachariah. However, on July 1, 2015 the Israel Antiquities Authority startled everyone by announcing that a 2,000 year old mikveh (that is a Jewish ritual bath) had been discovered during renovations of a house lining the main street in the center of Ein Karem.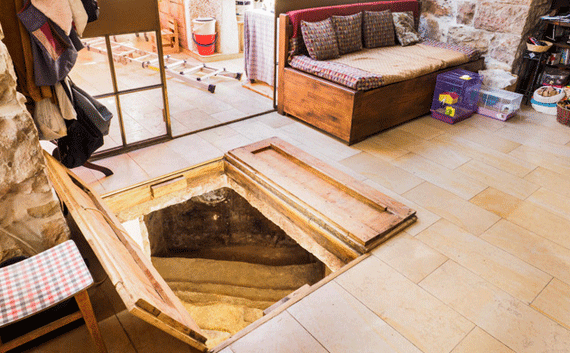 Courtesy of Israel Antiquities Authority
2,000 year-old ritual bath found under modern living room in Ein Karem
This is the most significant evidence to date that, indeed, a Jewish village existed here west of Jerusalem "in the hill country of Judea" contemporary to Zachariah and Elizabeth, and -- John the Baptist.
The house is, in fact, a stone's throw from the Catholic church of St. John the Baptist. We walk from the church through an arched stone alleyway bordered by swinging green grapes (still sour in July!) suspended from meandering vines and come to the main drag. Across the street we face the wooden door of the house where the mikveh was found. Who would have guessed??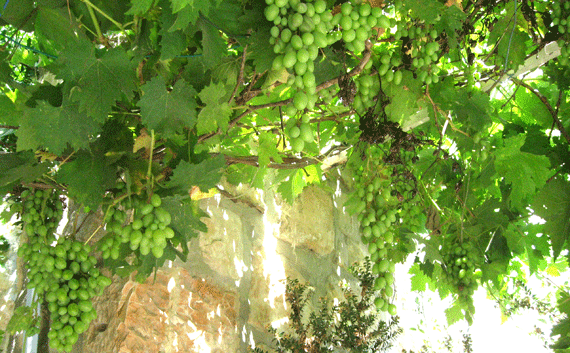 Photo: Gila Yudkin
Wandering through an Ein Karem alleyway in July
The mikveh is considered relatively large, at 3.5 meters long, 2.4 meters wide and 1.8 meters deep. It is carved in stone and dug according to Jewish ritual laws. A stone staircase carved out of bedrock leads to the bottom of the immersion pool. Second Temple period pottery and pieces of stone tools were found on the floor of the mikveh.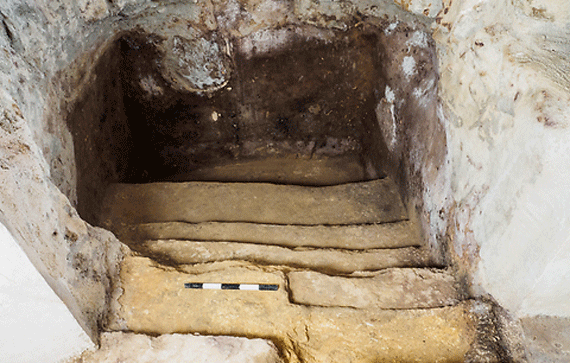 Courtesy of Israel Antiquities Authority
2,000 year-old Jewish mikveh found under modern home in Ein Karem
When you next come to the Holy Land, try to make time to visit Ein Karem, a rustic neighborhood nestled in the hills of western Jerusalem. It's an evocative (and perhaps even the authentic) place to remember Elizabeth, Zachariah and John the Baptist.
Copyright 2015 Gila Yudkin. Permission needed for any reuse.
Other Holy Land Heroines posted to date include, in biblical / chronological order, the Witch of En Dor, bathing beauty queen Bathsheba, Abishag the Shunemite, Pharaoh's daughter, Mary Magdalene, Verona and Princess Alice.