See walls from the time of Solomon up to the time of Suleiman!
Choose the angle that most grabs you for Gila's running commentary as you walk.
Will it be:
archeology?
Judaism, Christianity and Islam?
time of Jesus?
Jerusalem folklore?
Bible reading?
current Jerusalem challenges and chaos?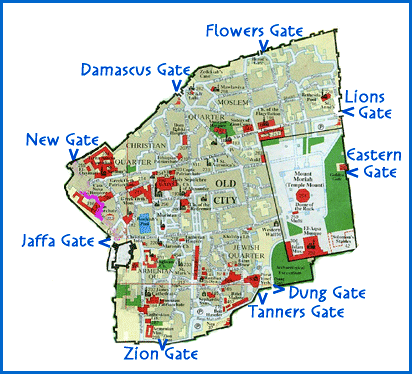 On this tour we walk around all the gates shown on this Old City map. But SURPRISE -- Jerusalem isn't flat!!! After this walk, you will never forget Jerusalem's gentle slopes and deep valleys.
We start at whichever gate you choose and conclude two and a half to three hours later at that same gate.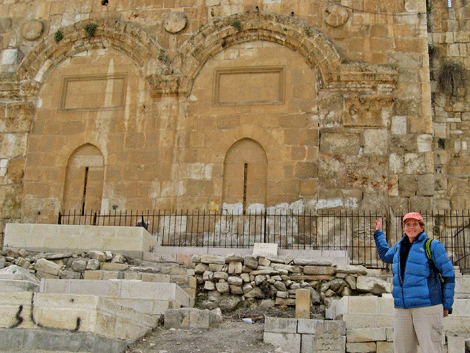 Photo: Gila Yudkin
This could be you...standing in front of the blocked-up Eastern Gates
What you need:
STURDY LEGS
an inquiring mind
an eagerness to understand Jerusalem's layered past and present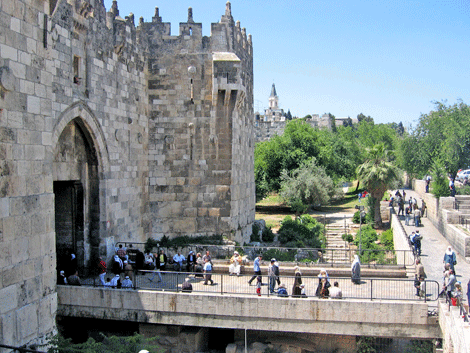 Photo: Gila Yudkin
Walking about the Damascus Gate
About the guide: Gila, who calls herself a Connecticut Yankee living in King David's court, has been making Jerusalem's stones speak for the past 35 years.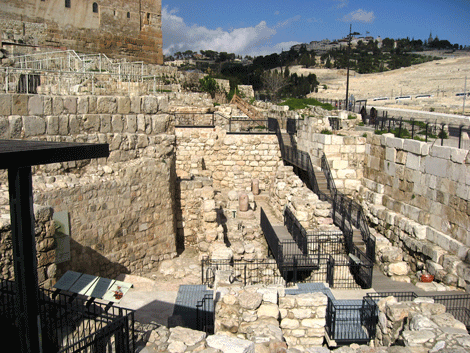 Photo: Gila Yudkin
With Gila you will identify gates from the time of Solomon, Herod & Suleiman
Email Gila for availability and price details. After the date and time and meeting place are established, you will receive a link to a payment page where you can place a deposit to save the date of your exciting personal Jerusalem tour.