In the days that Herod was king over Judea, an elderly childless priest named Zachariah won the lottery with the right to offer incense in the Lord's Temple in Jerusalem. (Luke 1: 9) Just as Zachariah was standing by the great altar holding a cup full of burning coals and incense, the angel Gabriel suddenly appeared incognito to the right side of the altar. Zachariah was startled and frightened.

The angel patted his shoulder, reassured him and pronounced the amazing news to Zachariah that his wife Elizabeth, who was "well along in years," was to give birth to a son. Zechariahs' first reaction was disbelief and a demand for proof. Gabriel formally introduced himself and left Zechariahs mute, having to tell worshippers in the Temple courtyard by sign language that he had seen a vision.

Six months later, Gabriel visited the Galilean village of Nazareth, this time appearing to a young virgin named Mary. She, also, was initially alarmed by the sudden presence of a stranger. But he reassured her, "Do not be afraid, Mary, you have found favor with God."

A few days later, or perhaps a few hours later, a pregnant Mary began the long arduous journey (90 miles as the crow flies) from Nazareth to visit her cousin Elizabeth in the hill country of Judea. Would she have walked, or would she have ridden a donkey? We can't know.

But what we do know is that she would have traveled along a land of hills and valleys studded with many, many rocks. The most she could have traversed in one day is 9 to 10 miles, so we are talking about a ten-day journey at the very least, and, in a state of pregnancy.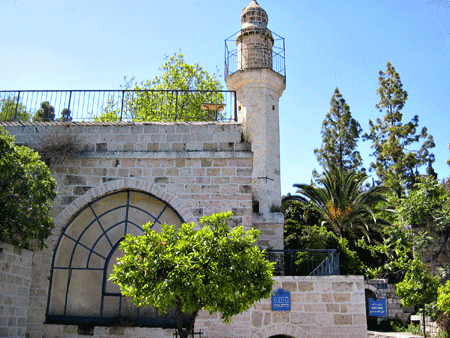 Photo: Gila Yudkin
Tradition has it that Mary drank from a spring under this mosque in Ein Karem
Mary's destination, Elizabeth's home village in the "hill country of Judea," is traditionally identified as Ein Karem, on the western outskirts of Jerusalem. Ein Karem means "spring of the vineyards," alluding to the many terraces, still evident, which were filled with grape vines and olive trees in ancient days.
Imagine how surprised Elizabeth would have been to see Mary. After all, Mary didn't have a smart phone to alert her. But she may have been carrying a smart-looking holy land pouch! If you would like to carry one on your next journey, check out Gila's Gift Shop!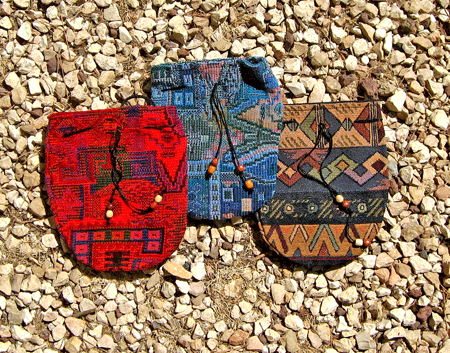 Eye-catching Holy Land Pouches
Mary's visit with her pregnant cousin Elizabeth is commemorated by a lovely church called "The Visitation Church." To reach the church we pass a spring where Mary is reputed to have quenched her thirst, before she climbed up the hill to Elizabeth's summer home. It's a 7 to 10 minute walk up the hill with 89 steps to the entrance of the church.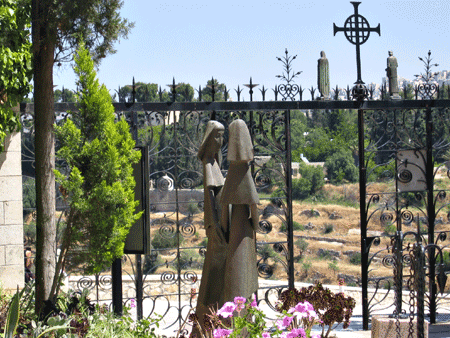 Photo: Gila Yudkin
Statue of Mary greeting Elizabeth at the entrance to the Visitation Church
The Church of the Visitation is an ideal place for reflection on the promise of motherhood and the intervention of the Holy Spirit. Another possibility is comparing the birth narratives and ministries of cousins John and Jesus.

Although the church is visited by many groups, most don't linger. Members of your group can disperse facing the rustic views of the terraced countryside, or find solitude in the upstairs chapel or the downstairs grotto. You can read the Magnificat (Luke 1:46-55) set in ceramic tiles in 57 languages, from Scottish to Swahili and Portuguese to Vietnamese.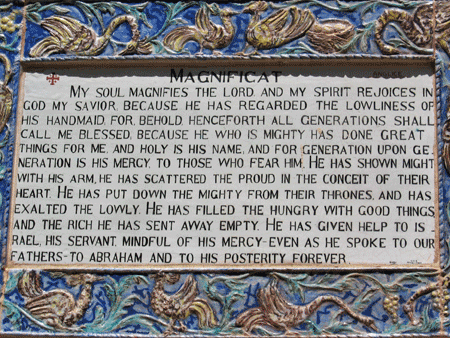 Photo: Gila Yudkin
Magnificat set in ceramic in 57 languages
If our group is filled with boundless energy, we'll wander a bit through the narrow village alleyways and admire some of Jerusalem's finest landscaped country homes.
If you'd like to meet where Mary met Elizabeth, contact me while you are in the stages of planning your next trip to Jerusalem. We'll include a visit to rustic Ein Karem on your next pilgrimage.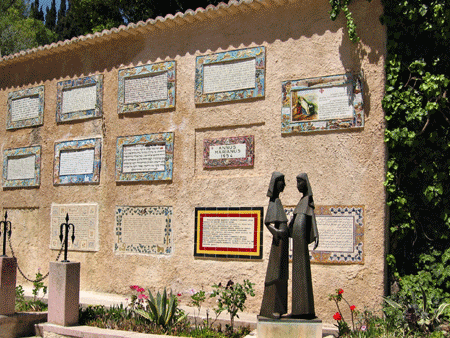 Photo: Gila Yudkin
Mary meeting Elizabeth commemorated at the Visitation Church in Ein Karem
Gila Yudkin, a Connecticut Yankee guiding in King David's court, has been sharing biblical insights on site in the Holy Land for over 30 years. She loves showing off Ein Karem to pilgrims -- and to her family and friends. Be sure to contact her in the beginning stages of planning your tour to check her availability.

If you are contemplating leading a tour to the Holy Land or know someone who is, don't miss Gila's tips about do's and don'ts guaranteed to make your Holy Land pilgrimage a rave success. Read Tips from A to Z for Holy Land Tour Leaders.
Copyright 2008, 2015 Gila Yudkin. Permission needed for any reuse.